Bespoke and Contemporary TV Media Wall Units
Custom-built bespoke, TV media walls.
Hand made in the UK by JMT Trade A stylish and effective wall-mounted panel storage solution for your media appliances.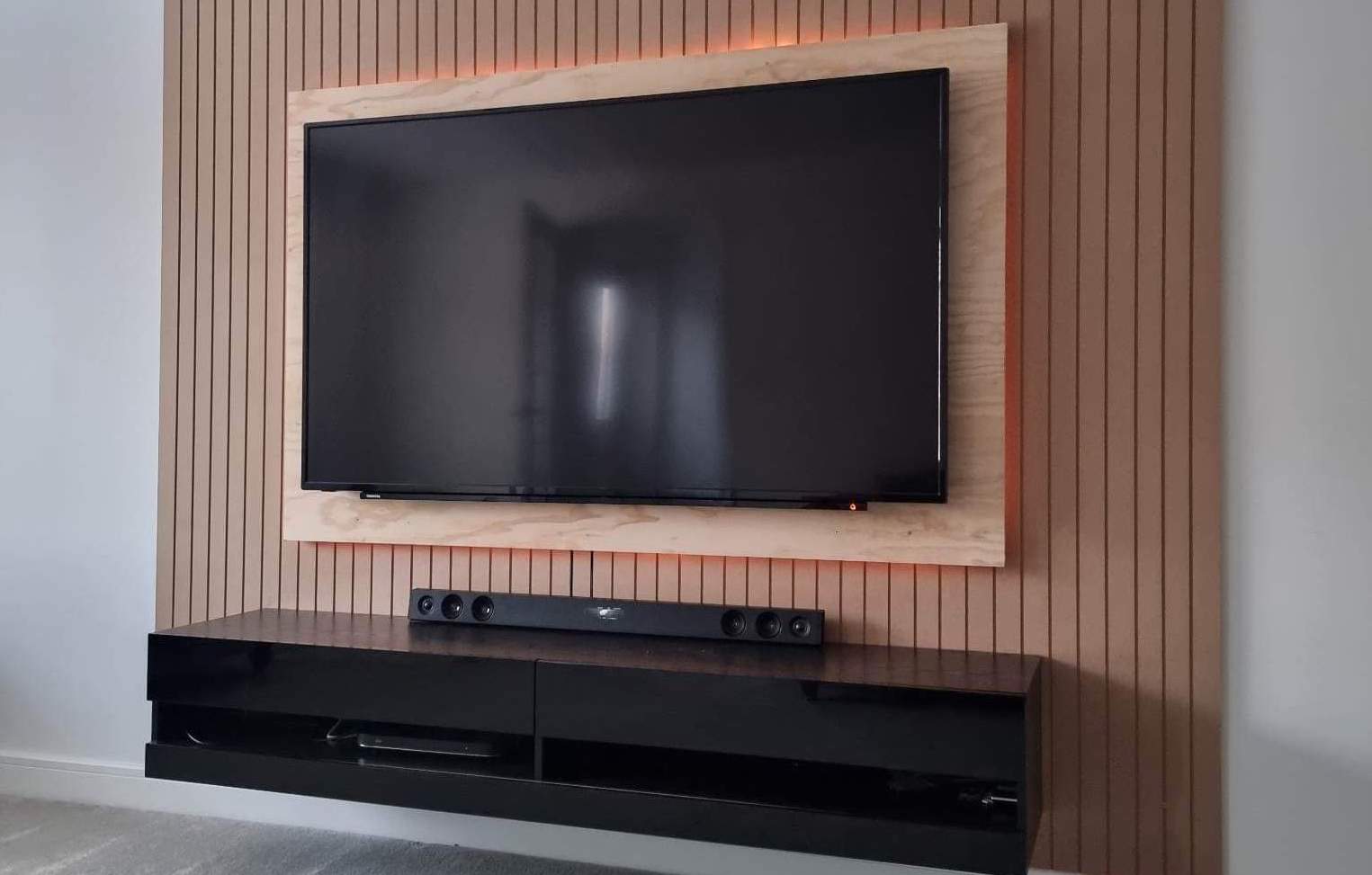 Welcome to JMT Trade - The Home of TV Media Walls
We are based in Carlisle, in the Northwest of England, manufacturing and supplying furniture such as media walls across the United Kingdom.

We are a family-run business. We started out in 1981 and are still going strong over forty years later.

We would love to hear from you if you are looking for bespoke TV media wall panel furniture.

Please feel free to give us a call on: 01228 791909

If you prefer, you can email us at: sales@jmttradeltd.co.uk

Or click this link to use our inquiry form: Click here for the inquiry form…
What is a TV Media Wall Panel?
Media walls are a key design feature that not only bring the whole room together but also help create a minimalist and contemporary look.
The design of media walls has changed dramatically thanks to the development of new technology.
With wide-screen televisions, BlueTooth sound bars, and surround sound systems.
Creating that cinematic look has never been so easy and accessible.
But that's not all. Thanks to inset fireplaces you can also create a nice cozy snug environment for movie nights with the family.
What Do Media Wall Units Cost?
So how much does a media wall panel cost? The price depends on the design and your budget.
You could go really high-end and design something bespoke with all the fancy fixtures and fittings such as shelving, cupboards, LED lights, compartments for speakers and sound bars, as well space for a luxury inset fireplace.
Something as bespoke as this would set you back £1000's.
However, if your budget doesn't stretch that far, you could still have an eye-catching media wall that would have your neighbour's heads turning for £100's.
How Are the Bespoke Media Walls Installed?
Media walls for TVs are relatively easy to install. However, the tricky and often difficult part is getting the right measurements and materials.

Providing you have all those in place, then the actual installation is pretty straight-forward.

If you live in a new home that doesn't have a chimney breast, then we recommend building a stud wall that attaches to your existing wall.

Not only does this make life easier for installing the media wall, but it also ensures you don't hit any vital piping or electrics.

Another advantage to using a stud wall is you have more flexibility with the depth and length.

Plus, you can easily hide any unsightly cables from view.

However, if you do have an existing chimney breast with space for a fire underneath, you can simply attach your new TV media wall to the chimney breast.

This does have its own pros and cons.

Such as you don't need to build a stud wall which would cut down the cost of labour and materials.

The con might be that you have to rip out the existing fireplace to install a media wall.

However, at JMT, we have an alternative method which means you don't have to build a stud wall or cover up any unique features, such as an old fireplace.

We use a unique panelling system which allows you to build on top of any existing walls or features.

You can choose from straight panels or slat panels to give you a different look and feel. (See images).

Using this unique panelling system means that installation is a lot simpler with a lot less mess.

All you need to install a media wall like this is a strong adhesive application like fast grab or pink grip and a spirit level.

That's it.

No hammer or nails, sawing or jiggery pokery. Simply line up the panel, apply some adhesive and place on the wall and let it set.
Can You Build a Bespoke TV Media Wall with a Fireplace?
The beauty of our media walls is that you can either have them with a fireplace or without a fire.
It's not always practical to have a fire beneath if space is an issue.
However, what you can use instead is a wall-hanging media unit to fill the space.
Having the wall-hanging media units means you play around with the design.
Either with doors on the front so that you can store things away out of sight.
Or alternatively, you can leave it open to put things on display such as books, ornaments, pictures etc.
Can We Work with Bespoke Media Wall Panel Designs and Dimensions?
At JMT, we are all about building bespoke designs that fit any dimension.
One of the issues you may find with buying media wall cladding is that the design and dimensions can be limited by what's available.
Because we manufacture everything in-house, right here in the UK, we have the capability to cut panelling to fit any dimension, as well as a vast array of colours and textures.
Are the Media Wall Units Painted?
The media walls we use come in two designs.
Melamine finish: This is either done in a high gloss or matt finish from a huge selection of colours.
Plain MDF: The plain MDF is a colourless finish which allows you to paint or decorate it in any colour or style you prefer to match your current decor.
What Are the Benefits of Television Media Walls?
There are a whole load of benefits to having a media wall installed in your home.
You can customise or even theme your media wall to make it really stand out.
It will help create more space and less clutter.
You'll be able to store things away without having to buy more clunky furniture.
A media wall can help create an inviting and cosy feel to the room
It can dramatically modernise any room
It will improve the aesthetics of the home, which may even increase its value.
What's the Best Way to Order Your Contemporary Media Wall Unit Cladding?
The best thing to do is to get in touch so we can understand exactly what you need.
We can then give you a price for your bespoke TV media wall that matches your requirements and your budget.
Please feel free to give us a call on our UK landline: 01228 791909

If you prefer, you can email us at: sales@jmttradeltd.co.uk
Or click this link to use our inquiry form: Click here for the inquiry form…