Laboratory Furniture Manufacturers UK
Are you looking for UK-based laboratory furniture manufacturers to supply you with high-quality worktops, cupboards, shelving, or sinks for your science lab?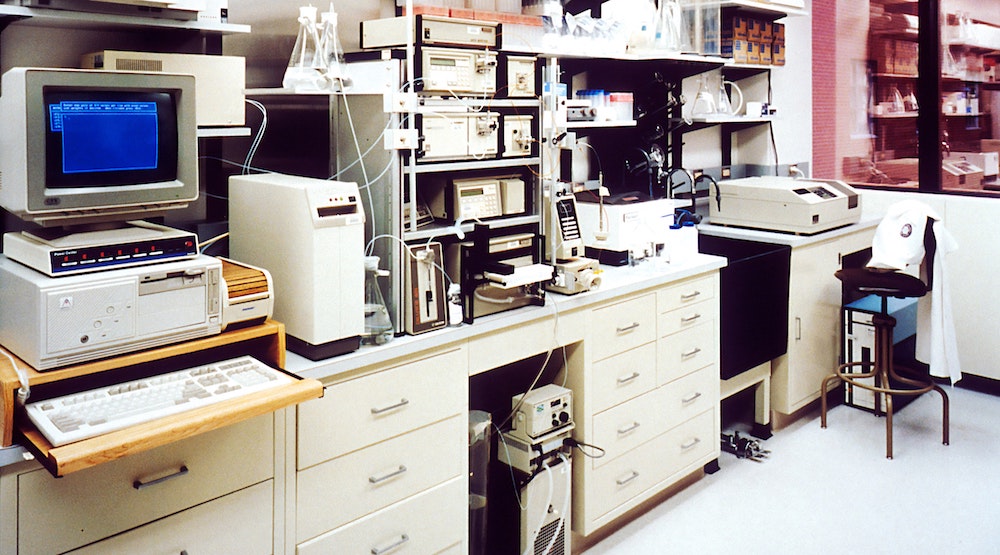 Welcome to JMT Trade
We are based in Carlisle, in the Northwest of England, and supply furniture for laboratories across the United Kingdom.

We are a family-run business. We started out in 1981 and are still going strong over forty years later.

We would love to hear from you if you need new furniture for your science lab.

Please feel free to give us a call on: 01228 791909

If you prefer, you can email us at: sales@jmttradeltd.co.uk

Or click this link to use our inquiry form: Click here for the inquiry form…
What Types of Laboratory Furniture Do You Manufacture and Supply?
From schools and universities to high-tech sciences labs, we can build furniture to suit your needs.
Here are some examples:
1. School Science Lab Furniture
With our specialised design software and manufacturing equipment, we can make furniture to fit any space.
Items we make for school labs include worktops, units, science trolleys, fume cupboards, and benches.
We're also able to make furniture for other parts of schools. (Click here to see our school furniture page).
2. Healthcare and Hospital Laboratory Furniture
A high standard of equipment is vital to the smooth running of a medical laboratory.
With our wealth of experience, we're able to provide just that.
We manufacture and supply worktops, storage, and more.
We'll advise you even if you're unsure of the best materials to use.
3. Furniture for Research and Industrial Laboratories
When you're breaking new ground and making innovative products, you need lab furniture to keep up.
We make sure that everything we manufacture, from laboratory cupboards to worktops, meets the required standards for health and safety.
How Much Does Your Lab Furniture Cost?
The cost can vary from a few hundred pounds to thousands depending on the types of qualities of units you require.
We can give you precise quotes for your order (with or without delivery) upon request.
Do You Sell Wholesale Laboratory Furniture to the Trade?
Yes, we are very happy to sell our lab furniture to retailers and installers at wholesale prices.
The more you buy from us, and the more frequently you buy, the better deals we can give you.
Can You Help with the Installation of the Furniture for Our Laboratory?
We have an in-house team of fitters based in Carlisle, Cumbria, and we work with furniture installers in some other parts of the country.
But, if our team or one of our contacts can't help you, any firm of joiners or kitchen fitters in your area would easily be able to help.
All of the furniture we sell for laboratories is designed to be easily installed by professional tradespeople.
Can You Deliver Large Orders for Places Like Schools, Colleges, and Universities?
Yes, we can supply bulk orders of commercial lab furniture as we make it all in our UK workshop.
We can also offer great deals on larger orders to help you get more from your budget.
Please contact us on the details above or below and let us know how we can help.
Why Should You Buy Furniture for a Laboratory from JMT Trade Ltd?
Great question! We have been in business since 1981, for just over forty years.
In a highly competitive marketplace, we have survived and thrived by focusing on the quality of our products and the level of customer service we offer.
We take pride in the fact that we have been doing business with some of our customers for decades.
Quality and customer satisfaction are part of our DNA.
But don't just take out word for it!
Click here to read reviews from some of our very happy customers.
Do You Manufacture and Supply Lab Furniture for School Science Labs?
Yes, if you are looking for furniture for a university, college, or school science lab, we can supply what you need.
We are also happy to offer deals for larger orders and can give you a quote once we know what your requirements are.
Do You Make All the Furniture Yourself in the UK?
We manufacture all of the units, doors, shelves, worktops, etc, in our UK factory in Carlisle, Cumbria.
We do use third-party suppliers and manufacturers for some of the smaller components, such as hinges and door handles, but with those parts, all the assembly is done by our UK team.
Can You Help with Bespoke Orders?
Yes, absolutely! Because we manufacture here in our UK factory and workshops, we can easily supply even the most complex custom orders.
If you use the contact details (above and below) on this page to get in touch, we can create a plan and price structure that will meet your specific needs.
How Can I Order Furniture from Your Company for My Lab?
The best thing to do is to get in touch so we can understand exactly what you need and then give you a price that matches your requirements and your budget.
Please feel free to give us a call on: 01228 791909

If you prefer, you can email us at: sales@jmttradeltd.co.uk

Or click this link to use our inquiry form: Click here for the inquiry form…